To lead a business towards long term competitive edge takes courage, self-knowledge, a mastery of leadership and the skills required to enable your people to perform at their best. It requires you to learn to lead as well as lead to learn.
It demands that you lift yourself above your own frames of reference and allow them to be challenged and your paradigms to be shifted. Sounds hard? Well it is. You need to be a different type of leader.
The Coach Approach
Leading your organisation towards long term competitiveness requires leadership that empowers your people and drives productivity and performance throughout the organisation. This fosters a culture where people are innovative and give their best every day. This impacts directly and positively on the bottom line.
Research tells us, the most effective way to create such a culture is the Coach Approach to Leadership, which focuses on asking instead of telling and assisting people to find their own solutions.
If you and your senior team don't already use this approach, you might be interested in our programme to help you understand and apply it. Like all our programmes it is designed to deliver sustainable behaviour change, through facilitated learning.
Sustainable behaviour change and measurable outcomes
It's all very well to train and develop your people, but unless you achieve sustainable behaviour change, your improvements will last for about a week.
To achieve sustainable results you can measure, you need programmes that are highly interactive, experiential and take into account the different learning styles of people.
You need programmes that ensure immediate transfer of learning into your business, through specific improvement projects designed for that purpose and 1-2-1 coaching support.
Facilitation of learning
"You can't teach a person anything – you can only help them find it within themselves" Galileo Galilei
To assist leaders to make sustainable improvements, you need to create clear understanding of the improvements and the benefits they bring, to them and the organisation. For this you need to create relevance.
The most relevant way we learn is to think things through for ourselves, debate it with others, experience it and frame it into our own environment. Programmes using Accelerated Learning techniques take this into account and ensure that the learning of your leaders is facilitated and delivered.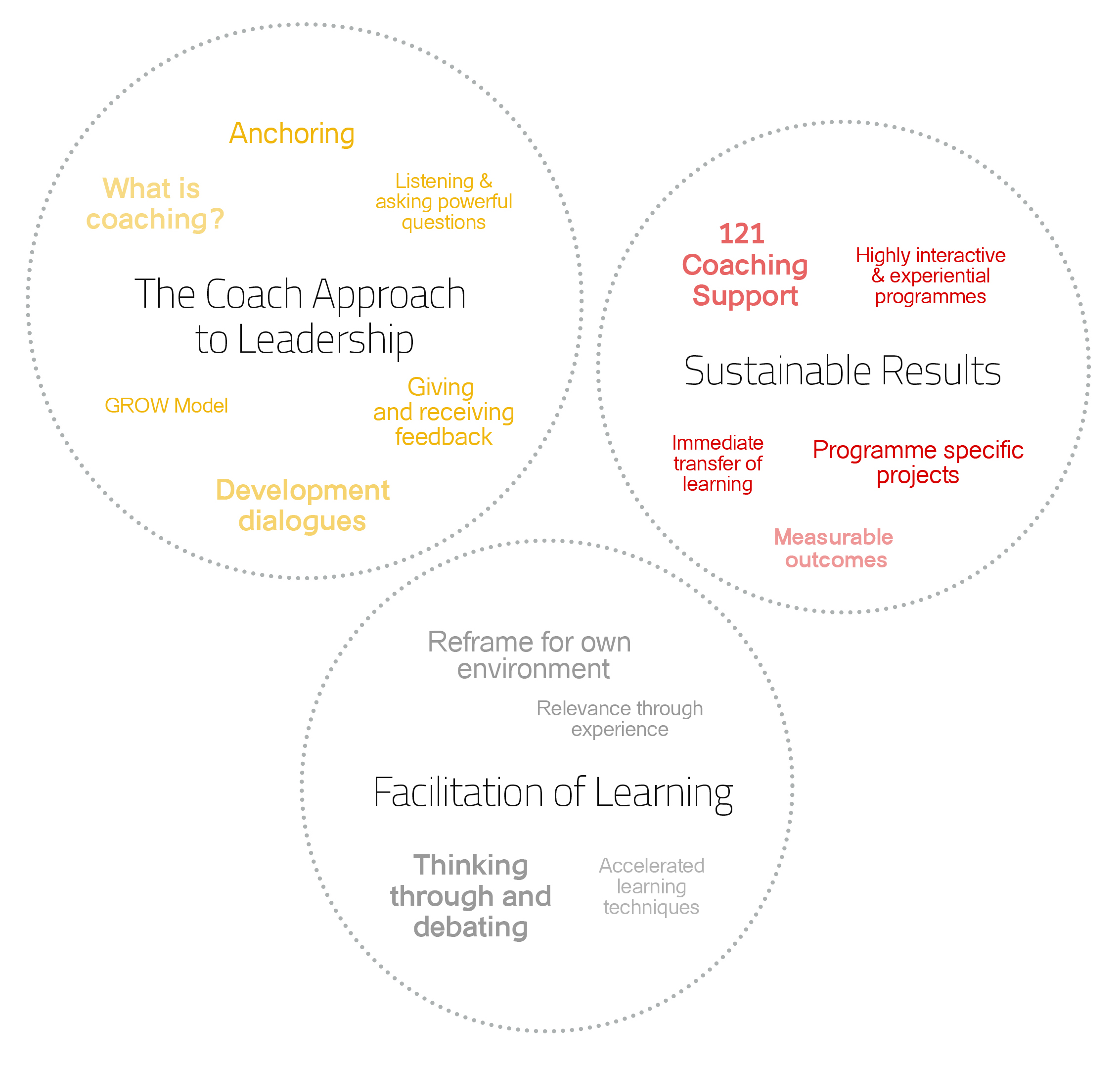 Through this approach we leave our client's organisations with the skills and knowledge they need, so they can get on with growing their business faster.
Interested to find out how we start the process? Then scroll down to request a free copy of our Business Game Changer brochure, or
Free Insight: Business Game Changer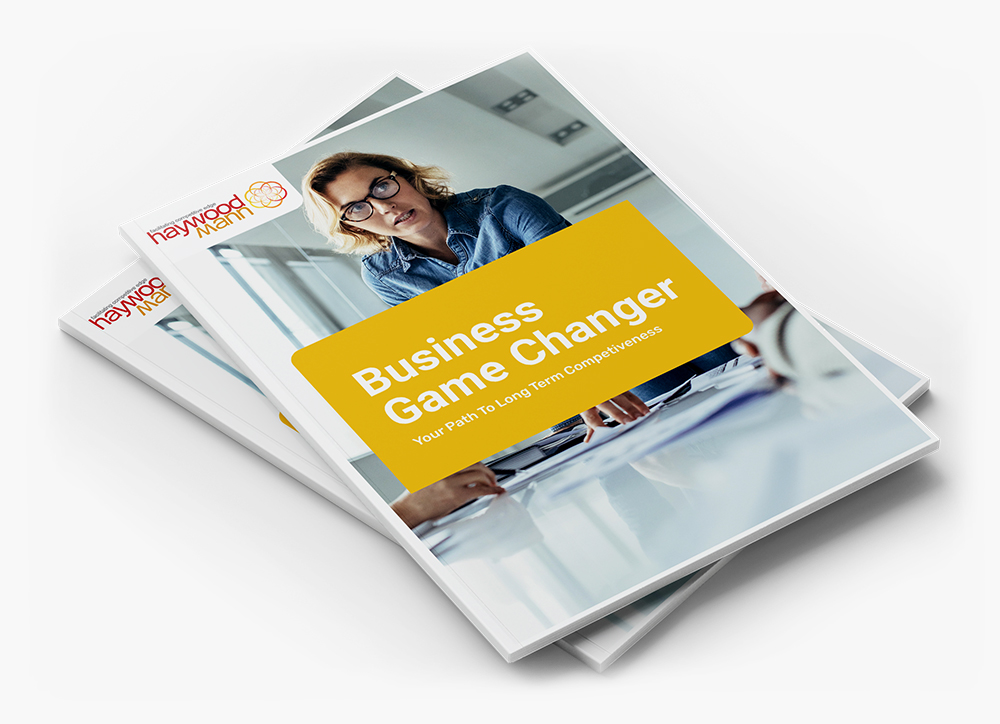 Thank you, Nicole.  It has been an absolute pleasure to go through this stretching and illuminating programme with you as our guide.  You are a wonderful resource and impactor on our professional direction and personal and professional lives.
Chris Bowers
Managing Director, AFL Hyperscale EMEA "Most trainings bring new insights, but only few plant the seeds for lasting change. Nicole's Coach Approach was a starting point for lasting change in the company I worked with. Her easy-to-grasp and yet profound concepts accompany me to this day. Choosing a coach approach to client relationships was a key insight for management, sales and delivery teams and helped us to professionalize our consulting business. With few adaptions, it soon became the standard doctrine for our client-facing activities. Personally, it was a starting point for transforming my whole consulting approach. I am grateful to Nicole to have opened that door for me."
Norman Hilbert
Expert in agile project management, professional development and leadership Nicole has very kindly supported me as I establish myself as a Coach. Nicole has an incredible ability for establishing depth of connection in a way that enables her to cut through the chat and very quickly identify what is holding you back. She provided me with challenges and direction in a manner that energised me to seek so much more for myself. Any time spent with Nicole will uncover beliefs & opportunities that will only propel you forwards.
Bep Dhaliwal
Award winning Resilience Coach, Facilitating Conversations that matter, NLP practitioner, MHFA, Ollie Coach I wanted us (to become) one team with a clear focus on improving the business. Haywood Mann designed and delivered a programme for the whole of the senior team with this aim. The Haywood Mann Diagnostics provided a framework that helped us all understand the key components of a high performing team, which gave us ways to improve the relationships between team members and measures to show the progress made. This approach helped the team develop much faster than would have happened naturally and 6 months after the programme the performance of the team continues to improve. We will be continuing to work with Haywood Mann on our next steps to becoming a long term competitive business.
Piers Grummet
Managing Director, Stölzle Flaconnage '[The Coach Approach to Client Relationships is] definitely the best course we have ever had as a company. The learning environment created was excellent and everyone took away very constructive new skills and an increased desire to ask better questions. 
Hanno Allolio
Founding and Managing Partner, Allolio & Konrad GmbH Sadly, not every professional is interested in making sure that they are right up to date with the latest research and thinking in their core area. However, Nicole is one of those rare people who takes their professional responsibilities and development seriously, and who mixes practical experience with proper evidence and research. Nicole is professional, knowledgeable and with a real concern for not only making sure that her work is evidence-based but that her deep knowledge is right up to date with the very latest research and evidence.
David Wilkinson
Editor, The Oxford Review Nicole is an excellent executive business coach. Many executives overlook the need for effective coaching that has a significant long-term impact on their management skills and decision making. Nicole is a person that is able to identify with management needs and specific outcomes. I strongly recommend her as an executive coach to clients
Julius Steyn
Investor and Finance Specialist in Water Sector "It is a real delight to work with Nicole – why do I say this?  Firstly, her absolute integrity, responsiveness, flexibility and dependability.  Secondly, her finely honed coaching and feedback skills have helped many of our senior managers positively embrace the changes they need to make to improve their own and their teams performance.  Thirdly, her enthusiasm for life and being proactive about living it to the full makes it very interesting and great fun to work with Nicole."
Shirley Smith
Global HR People Development, Lenzing AG "Andrew's experience, knowledge and advice enabled us to focus on the key issues. The Directors have already been discussing the potential benefits of engaging (his) services in the future to assist with the strategic direction of our business."
Darryl Pounds
Director, John Burke Associates "Andrew has excellent credentials across several industry sectors which enabled him to grasp our challenges very quickly.  He's very ethical in what he does (and) he adds value away from the defined sessions.I have recommended Andrew several times and will continue to do so." 
Andrew Smart
Managing Director, Virtual Sales Team Ltd The Game Changer assessment is useful at pinpointing those areas that need the most attention on the path towards 'outstanding'. It is worth your time to discover something useful about your business 
Paul Matthews
Managing Director, People Alchemy Ltd The in-depth report [on Organisational Health] provides some excellent pointers on next steps. Getting the rest of my management team to review the output provoked much needed discussion on some challenging issues.
John Sharples
Managing Director LPRS Ltd Nicole is a person I admire greatly. We both serve on the board of Entrepreneurs World and working with her is always enjoyable. She has a wonderful intellect, which I value very highly, and a fascination with many things. She is dynamic, warm, down to earth, well-informed, balanced and fun to deal with while also being passionate, very proactive and unafraid to tell it as it is. She is excellent at drawing out the best in people, something I have seen in action many times. If you need someone to bring out the best in you, so that you use all your talents and skills, Nicole is very highly regarded and must rank as one of the best there is. She's great and I highly recommend her.
Robert Clay
Author, Speaker, Mentor, helping owners of established businesses to achieve 628% growth in 12 months or less Nicole enables busy Executives and CEOs to communicate better with each other and their teams'. Nicole ensures that individuals become effective leaders. Nicole is passionate about building effective teams and improving people management within organisations. I have recommended my contacts and clients to her, and all have spoken about the true level of satisfaction and commitment which they have found with her services.
Simon Renshaw
Director and Insolvency Practitioner at RG Insolvency "Nicole is simply awesome.  She is not only a wonderful kind-hearted and warm person, she delivers time and again and is the ultimate professional.  If you haven't had chance to work with her, do.  Then you may see why she gets so many recommendations."
Cliff Findlay
Creative Director, Latitude Solutions Ltd Find out how developing your leaders can
transform your organisation. Get in touch.